In Memory
Delores Comeau (Welling)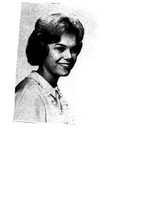 From: Nancy P. Hutto, 1991 Brian Way, Decatur, Georgia 30033 Phone: 404-298-6999
Dee was diagnosed with stage 4 colon cancer around September 2009. At that time she was told that someone in her condition usually lived 6-24 months. She had surgery and started her chemo treatments in November of that year. After about 9 months her tumors had shrunk and she went without treatment until December 2010. In February 2011, she was told that the treatment was not working and there was nothing else to give her. She was told she would live from 6-9 months longer.
At that time she took a leave of absence from Bank of America where she had worked for many years. Dee had gone back to work after taking 6 months off when she first got sick. She lived by herself up until about 6 weeks before she passed away but was under hospice care. Up until her last week she was awake and talking about going home and was able to carry on a conversation when I visited her. She took a turn for the worse on Wednesday and passed away Saturday morning, Christmas Eve 2011.
When cleaning out her house, I found annuals for the years 1957, 1958, 1959 and 1962. If you know of anyone who would like to have these years, please have them get in touch with me.
Enjoy your 50th reunion and remember Dee while you all are celebrating.