In Memory
Janet Bailey (Chop)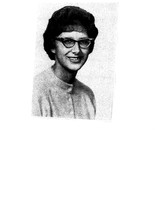 Janet Bailey Chop
My wife, our dear mother Janet L. Chop nee Bailey died alter a long illness at the age of 42
years. Denzlingen, 7 June 1987 on behalf of any family member. Hans-Wemer Chop, Eric
and Joe, At the special request of the deceased the funeral will take place with their relathes
and friends.
Janet spent the last 20 years or so living, raising and teaching in Germany.