In Memory
Jackie Silver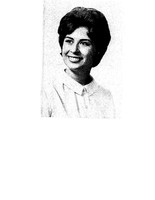 Wartnick
Jacqueline S., age 51, of Edina.
Graduate University or MN, BA ln Art, Art Teacher, Willmette Public Schools, Willmette, IL., MBA College ol St. Thomas, co-owner Synectics Information Systems, National
Sales Manager, Honeywell R2E ol America, avid mystery reader and devoted wife and mother. Preceded ln death by father, Harry. Survived by loving husband, Jack. sons, Jonathan and Jeremy, Eden Pralrle, mother, Marlon & step-father Blll Sallerson, Edina; brother, Sheldon Sliver. Brooklyn Hts, NY, step-brothers, Ron Sallerson & wife, Karen, Golden valley, and Sam Sallerson & wlle, Hillary, Chicago, IL. Funeral services Thursday11:30 AM Temple Isreal 2324 Emerson Ave. S. Mpls. Memorials reffrerd to PACER Center Mpls. SHIVA 7731 Shaughnessy Rd. Edina Thurs. Sat. Sun. Arrangements HODROFF & Sons.
Born 2/18/44 Died 1/8/96