In Memory
Dave Johnson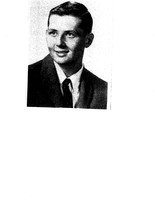 DJ, you were the craziest in all sorts of ways. I wore this button in your honor at the 50th reunion. We miss you tons. Bill Voedisch
David Johnson
David L. [Louis] Johnson, 60 of Delano died on Tuesday, October 5, 2004 at Methodist Hospital in St. Louis Park, Minn. He was born March 13, 1944 to Carl T. and Margaret (Solether) Johnson in Minneapolis.
David was employed as sales manager for Delano Sports Center, a position that he was in for over 25 years.
David was preceded in death by his mother Margaret. He is survived by his wife Jan; son Brian and his wife Charity; and daughter Lori Anne and Enoch Peterson; 5 grandchildren Cassady, Catja, Faith, Colton and Justin; father Carl and Irma Johnson; brother Lauren Johnson and sisters Sally and Gary Root and Francie and George Domstrand; as well as numerous family and friends.
Memorial services were held on Tuesday, October 12, 2004 at 11 a.m. at the Delano United Methodist Church in Delano.
Gathering time was held from 10 to 11 a.m. at the church on Tuesday. Reverend James Beard officiated at the service.
Memorials are preferred in lieu of flowers.
Arrangements by the Iten Funeral Home in Delano.