In Memory
Wally Johnson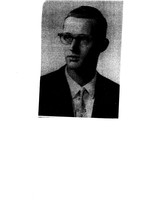 Wallace "Wa||y" Leete Johnson passed away March 3, 2005, after a long and courageous battle with Pick's disease.
He was born Aug. 28, 1944, in Minneapolis. He graduated from Southwest High School in 1962 and attended Mankato State University in 1965
He is preceded in death by his parents, Roy and Victoria Johnson.
He is survived by his twin brother, Ward (Bonnie) Johnson, brother, William (Janet) Johnson, sister, Barbara (Tom) Collins, loving children: Shellene Johnson, Scot (Lori) Johnson, Kyle (Erin) Johnson and grandchildren: Kitty, Kimberly, Jacob, Grace and Greta.
He worked many years for Chisago County in the Zoning and Environmental Services as a sanitarian and for the Highway Department. He was an avid fisherman and spent many hours fishing the St. Croix River.
Sincere appreciation to the Stevenson family and the staff at North Country Residence and Fairview Hospice for all their loving and compassionate care.
Wally was a gentle, kind and loving man who was loved by all who knew him.
Memorial service will be March 17, 2005, at Grandstrand Funeral Home, in Lindstrom. Time of gathering from 5-7 p.m. Memorial service at 7 p.m.
Private family interment.
All memorials will be given to the Association for Frontotemporal Dementias (www.ftd-picks.org) in his memory for research.
SOURCE: Chisago County Press, http://www.chisagocountypress.com/main
Note: Picks disease is a rare form of dementia that is similar to Alzheimer disease, except that it tends to affect only certain areas of the brain.
Born 8-28-1944 Died 3-3-2005