In Memory
Nancy Nordlund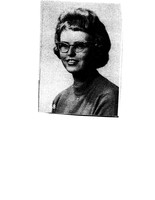 Nancy M. Nordlund Hansen
[The U.S. Social Security Death Index, 1935 - 2014 lists her middle name as Margaret]
Birth: Apr. 18, 1944, Minneapolis, Hennepin County, Minnesota
Death: Nov. 26, 2006, Saint Peter, Nicollet County, Minnesota
Nancy M. Hansen, age 62 of Mankato died Sunday, November 26, 2006 at the St. Peter Health Care Center.
Funeral service will be 1:00 p.m. Wednesday at Messiah Lutheran Church with Rev. Jim Ahlquist officiating. Burial will be in Calvary Cemetery in Mankato. Visitation will be two hours prior to the time of service at the church on Wednesday. Mankato Mortuary is handling arrangements. In lieu of flowers, memorials are preferred to the Alzheimer's Association.
Nancy was born April 18, 1944 in Minneapolis to Elmer and Mary (Johnson) Nordlund. She was a graduate of Southwest High School. After raising two children in Butterfield, MN, she moved to Greeley, CO, where she was employed with the Weld County Sheriff's Department. She returned to Mankato and was a member of Messiah Lutheran Church, the 60 plusers group and Bible Study. Nancy enjoyed walking, reading, sewing, baking, Minnesota Sports Teams, especially the Vikings, and spending time with her family.
Survivors include her children, Terri (Tim) Price of Mankato, Matt (Trudi) Hansen of Sioux Falls, SD; grandchildren, Jordan, Kjerstin, and Addisyn Hansen; sisters, Barbara (Jan) Butler of Greeley, CO, Diane Crosier of Escondido, CA; brother, John (Sue) Nordlund of San Diego, CA; nieces, nephews, great-nieces, and great-nephews. She was preceded in death by her parents.
Burial:Calvary Cemetery
Mankato, Blue Earth County, Minnesota, USA