In Memory
Linda Kipp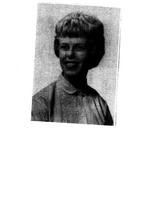 Klawitter, Linda L(Kipp)
Age 66, of Richfield, M'N',A breast cancer survivor of over
4 years, passed away unexpectedly due to a recent re lapse of this disease on
Tuesday October 4, 2011. Preceded in death by her parents, Aaron and Betty Kipp: uncles and aunts. Lincoln and Helen Murray and Connell Johnston; parents ln-law, Branch and Muriel Klawitter, brother in~|aw, Daniel Campbell. Survived by her husband of 42 years. Bill Klawitter; children, Kimberly Klawitter (s/o Douglas Huelsman) and Jason Klawitter: aunt, Dorothy Johnston; brothers and sisters, Roger Kipp, Karen Campbell, Nancy Kipp (James schagh); Glenn Kipp, and Scott Kipp (Marianne); nephews and nieces. John Prather, Heather Campbell, Ginger Campbell, Michelle Kipp. Ryan Schagh, Chelsea Kipp. Katie Kipp; Allan Kipp and Paige Kipp: brother and sisters in-law, Gregg and Patricia Judge and Barbara Prather.
Linda showed great love and dedication to her children, family and pets. Visiting and brightening the day of several who are no longer with us and many who are. As a talented gardener, she tenderly cultivated beautiful plants and flowers in her own back yard, winning city recognition for her personal landscape design.
She truly loved the outdoors and made regular trips with her husband to their lake retreat for long week-ends of paddle boat rides near the turtles and eagles, quiet walks with her dog Baughb, socializing with neighbors at pot lucks, hosting bonfires and just quietly reading under the pine trees. She equally enjoyed cooking and eating, a real foodie, creating delicious dishes with no need for recipes, as well as dining out with family and friends at any opportunity.
The family will be honoring her in memory in a private gathering, memorials preferred to the Park Nicollet Jane Brattain Breast center.' '