In Memory
Rodney Kossila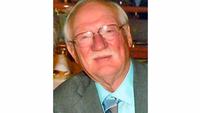 Rodney William Kossila
Rodney William Kossila, age 75, resident of Brainerd, died Thursday, June 20, 2019 at his home surrounded by his family. Rodney was born November 13, 1943 in Minneapolis to William and Alvina (Rothiger) Kossila.
Rodney married Marlene Pedersen in 1967. He retired after 32 years of service for the Electrical Workers Union (IBEW) Local 292. He was an Army veteran of Vietnam, and received a Purple Heart. Rodney was a member of the American Legion Post 255.
Survivors include his wife, Marlene, children Wayne (Heather) Adriana (Kelly Matzke), grandchildren Tyler, Grahm and William and sister Patti Pietruszewski (John). Also survived by many nephews, nieces, family and friends.
He was proceeded in death by his parents and brother Roger.
Funeral Services will be held 11:00 am Tuesday, June 25th at Bethlehem Lutheran Church with Rev. Mark Skinner officiating. Burial will be in the Minnesota Veterans Cemetery. Visitation times will be Monday from 4-7:00 pm at the Nelson-Doran Funeral Home and Tuesday one hour prior to Services at the Church. Military Honors by the Brainerd American Legion and VFW Color Guard. Memorials may be given to Paralyzed Veterans, 1 Federal Drive, room G915, St. Paul, MN 55111.
Arrangements with Nelson-Doran Funeral Home, Brainerd.